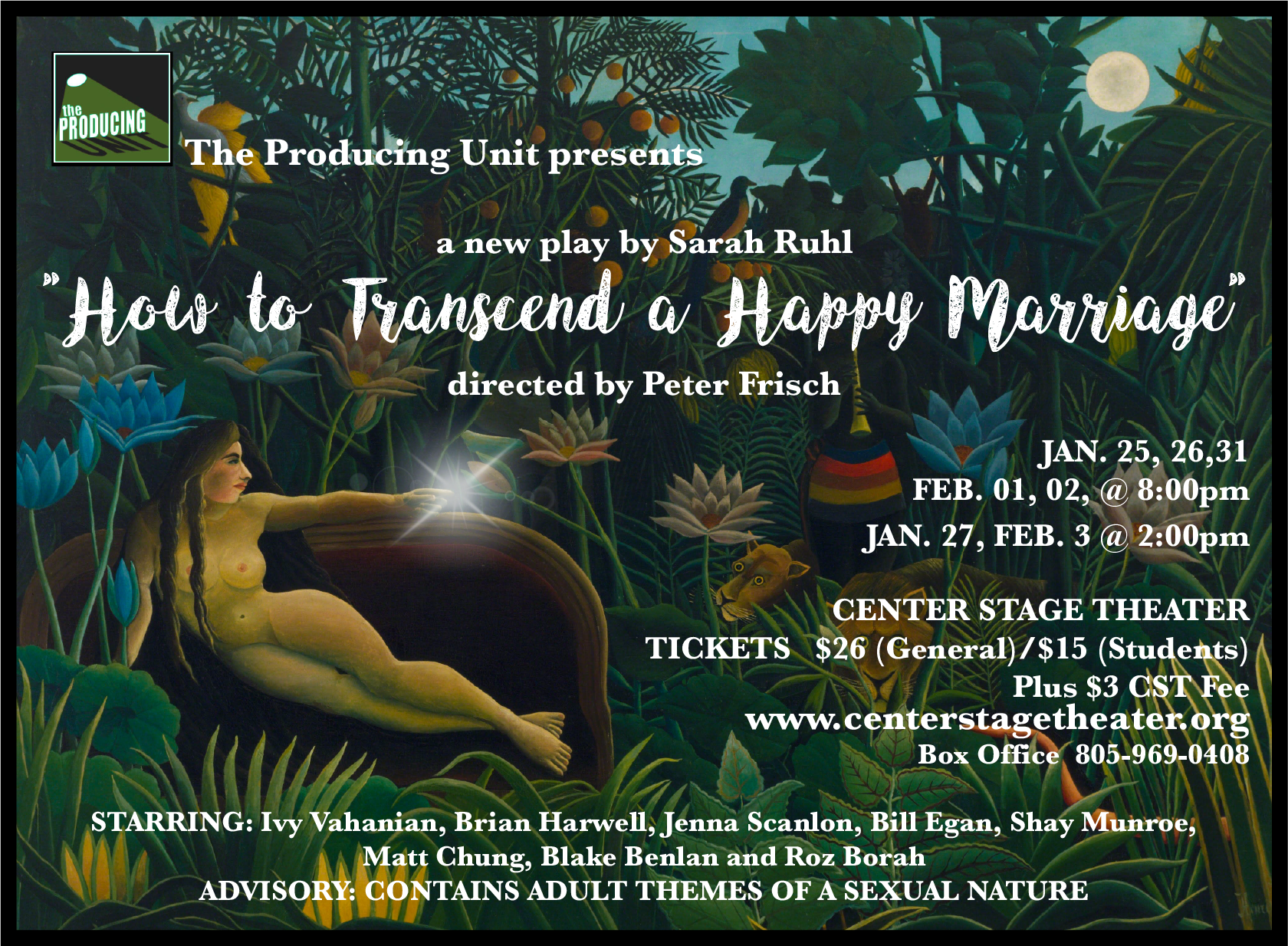 How to Transcend a Happy Marriage
Jan 25, 2019 - Feb 3, 2019
The Producing Unit presents
January 25 through February 3, 2019
The Producing Unit presents
How to Transcend a Happy Marriage
About
January 25 through February 3, 2019
The Producing Unit presents
How to Transcend a Happy Marriage

By Sarah Ruhl

Directed by Peter Frisch
Starring Ivy Vahanian, Brian Harwell, Jenna Scanlon, Bill Egan, Shay Munroe, Matt Chung, Blake Benlan, and Roz Borah

An extraordinary new play by celebrated playwright Sarah Ruhl- a literate, funny and dark exploration into the incompatibility of traditional marriage with our sexual, animal roots.
Into the lives of two, "happily" married, middle-aged couples comes the remarkable Pip, a woman who lives, loves and sleeps with two male lovers and will only eat meat that she has killed herself. Responsive only to the instincts of her own, internal drummer, Pip's entrance onto the stage of the marrieds alters their understanding of life and relationships forever.
Sarah Ruhl has been awarded a MacArthur Fellowship and the PEN/Laura Pels Theater Award for a distinguished American playwright. Two of her plays have been finalists for the Pulitzer Prize and she received a nomination for Tony Award for Best Play.
"This new play is a subversive enchantment. It is part absurd domestic serio-comedy, part erotic magic realism, unflinching about taboos and about questioning that, just maybe, monogamy isn't enough"
-Newsday

Contains adult material. Not recommended for children.

TIMES: Friday, January 25 at 8:00 pm
Saturday, January 26 at 8:00 pm
Sunday, January 27 at 2:00 pm
Thursday, January 31 at 8:00 pm
Friday, February 1 at 8:00 pm
Saturday, February 2 at 8:00 pm
Sunday, February 3 at 2:00 pm

TICKETS: $29 general, $18 students

All seating is general admission. All ticket sales are final at the time of purchase. There are no refunds or exchanges. For all performances late seating is on a limited basis, or is not allowed at all once the performance begins. Please plan your arrival time accordingly.