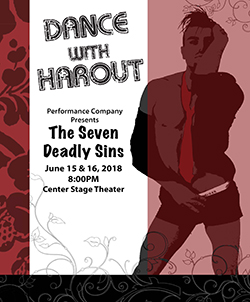 The Seven Deadly Sins
Jun 15, 2018 - Jun 16, 2018
Ticketing Information
TICKETS: $32 general (in advance), $42 general (at the door) 
All seating is general admission. All ticket sales are final at the time of purchase. There are no refunds or exchanges. For all performances late seating is on a limited basis, or is not allowed at all once the performance begins. Please plan your arrival time accordingly.
June 15 and 16, 2018
Dance with Harout Performance Co. presents
The Seven Deadly Sins
Performance by the Dance with Harout Performance Co.
A sultry production where dancers will captivate your attention through nine exceptional dance numbers and sinful story-telling. Combining hip hop, modern dance, and burlesque…and offering a different perspective on sin. Special Guest Performance June 16th only. Harout Aristakessian, Founder of the Dance with Harout (DWH) Performance Co., teaches dance classes that are open to dancers of all ages, backgrounds, and levels of dance experience. His students get the life-enriching journey of participating in a show from the early stages of choreography to dancing on stage in a professional production. 
TIMES: Friday, June 15 at 8:00 pm
SOLD OUT
Saturday, June 16 at 8:00 pm
SOLD OUT
About
Dance with Harout Performance Co. presents
June 15 and 16, 2018
Dance with Harout Performance Co. presents
The Seven Deadly Sins